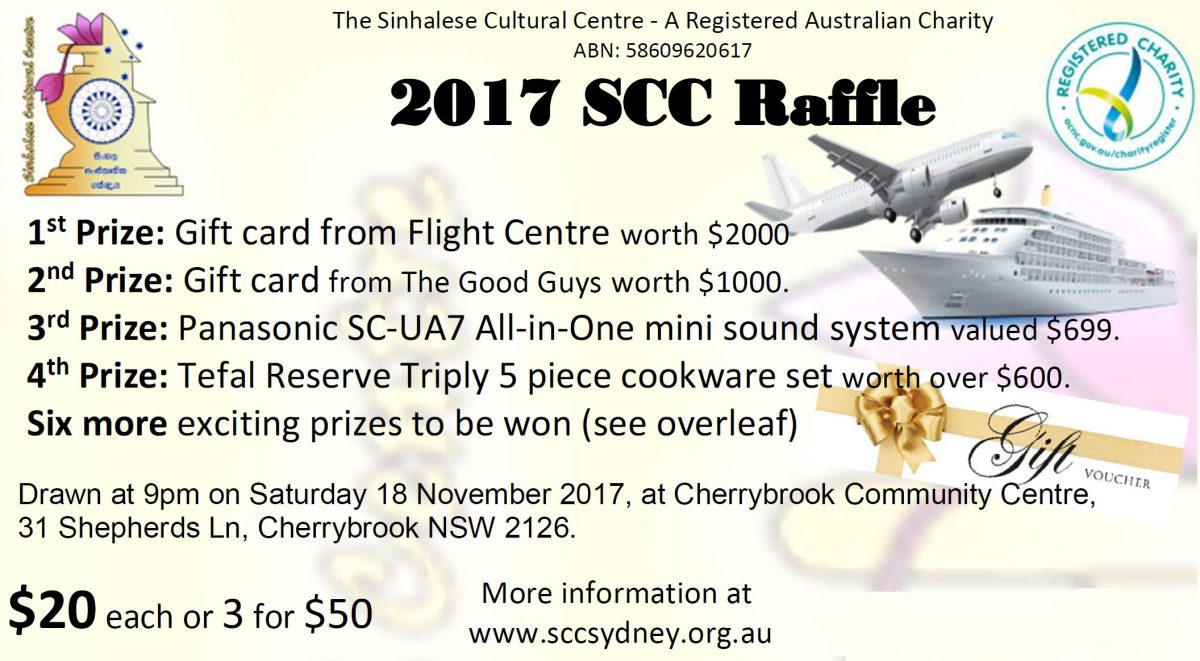 The Sinhalese Cultural Centre has organised the first annual raffle draw to raise the much needed funds for our own Cultural Centre. The raffle tickets are now released!
This is another excellent opportunity for you to help the Sinhalese Cultural Centre with your chance to win valuable prizes at excellent odds.
Here are the great  prizes!
1st Prize: Gift card from Flight Centre worth $2000
2nd Prize: Gift card from The Good Guys worth $1000
3rd Prize: Panasonic SC‐UA7 All‐in‐One mini sound system valued $699
4th Prize: Tefal Reserve Triply 5 piece cookware set worth over $600
5th Prize: Holiday accommodation package at Sayura Beach Hotel,Unawatuna, Sri Lanka, valued over $400
6th Prize: Samsung Galaxy 10.1" smart tablet valued at $399
7th Prize: Dyson cordless stick vac valued at $399
8th Prize: Stanley Rogers Baguette 70 pce Cutlery Set valued at $349
9th Prize: Johnson & Johnson gift pack valued over $200
10th Prize: Panasonic KX‐TG7893 Cordless Phone valued at $179
Quality products! Great brands! No compromises!
$20 each or 3 for $50
Drawn at 9pm on Saturday 18 November 2017, at Cherrybrook Community Centre, 31 Shepherds Ln, Cherrybrook NSW 2126
Note
Funds raised will be used to establish the Sinhalese Cultural Centre. Winning ticket details will be announced at the draw and the winners will be informed by phone and/or email. The winning ticket numbers will be published on SCC website www.sccsydney.org.au after the draw. Winners must surrender their winning ticket to the Sinhalese Cultural Centre at the time of claiming their prize. Prize values indicated are recommended retail prices at the time of printing. The prizes shown in pictures are for illustration purposes only. Prizes cannot be claimed in cash value.
The members of the Sinhalese Cultural Centre Board of Directors or their family are not permitted to enter the raffle. For the purpose of the SCC Raffle, the family means the nuclear family consisting of parents (mother, father), children (sons and daughters) single or married, living in parental household or otherwise living apart. Parents of the Board of Directors living in the same household will be considered as members of the family for this purpose.