The Sinhalese Cultural Centre is the Community Hub initiative for all of us in Sydney, initiated by the Sinhalese Cultural Forum of NSW with the excellent support from the wider Sinhalese community in Sydney for the benefit of all communities in our multi-cultural society. It will be an excellent facilitator of cultural and social needs of our community, for generations to come.
The Sinhalese Cultural Centre is now established in Seven Hills (28 Cacia Av,  Seven Hills) with the excellent support of the community.
"JanaShakthi" is the public fund constitutionally created to provide you with the opportunity to be part of this initiative for our future generations to one day hail you with utmost gratitude. JanaShakthi was pivotal to acquire the property in Seven Hills in October 2020. Further, it will be vital to maintain, pay-off the mortgage and further develop the Sinhalese Cultural Centre.
You can be one of proud sponsors of this fund, so that Sinhalese Cultural Centre can continue to serve the community. You will be a JanaShakthi Contributor by donating minimum $1000 to the JanaShakthi Fund. Your contributions can be one-off or recurring, at your own convenience.
The Sinhalese Cultural Centre is a Deductible Gift Recipient (DGR). Hence all of your donations to our Public Fund will be tax deductible.
Please be part of this community initiative for the benefit of you, your family, your sons and daughters and the whole community for generations to come!
How to become a JanaShakthi Contributor?
Please fill the form below, scan and email to sccsecretary@sccsydneyorg.au
Transfer your contribution to the SCC Public Fund. Details are in the document below.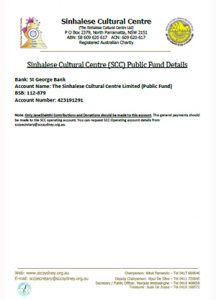 For further details, please contact the below.
Nihal Fernando – 0417 660646
Madhuri Arampatta – 0403 757035
Daya Siriwardena – 0408 228435