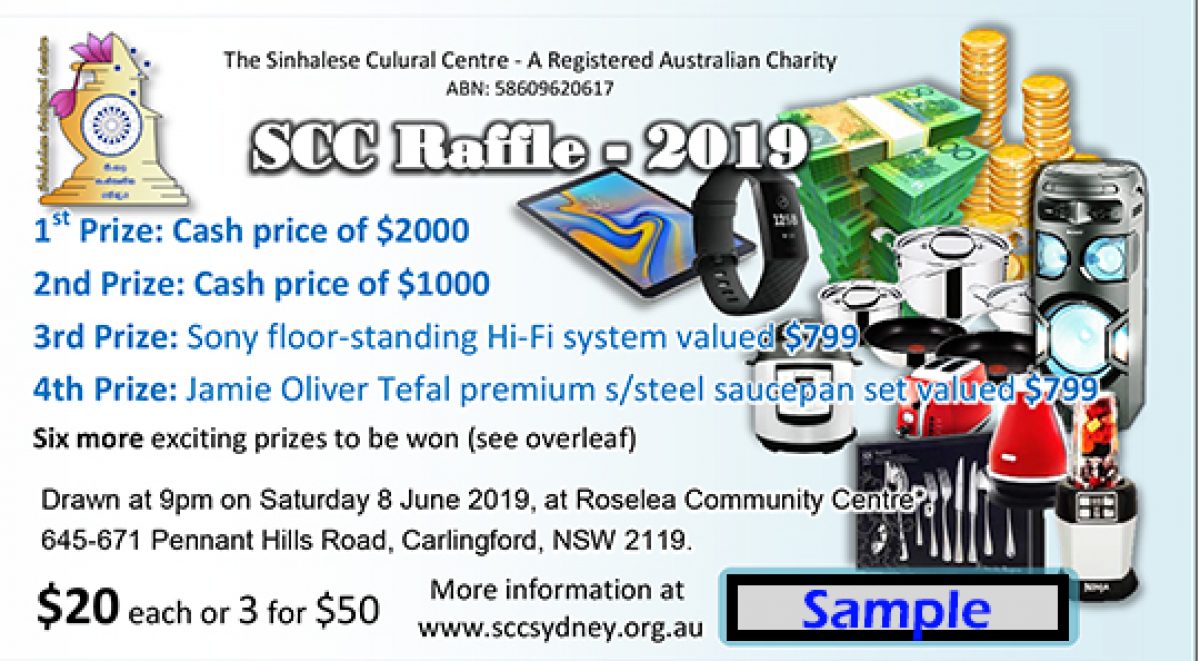 The Sinhalese Cultural Centre has organised the bi-annual raffle draw to raise the much needed funds for our own Cultural Centre. The raffle tickets are now released!
This is another excellent opportunity for you to help the Sinhalese Cultural Centre with your chance to win valuable prizes at excellent odds.
Here are the great  prizes!
1st Prize: Cash price of $2000
2nd Prize: Cash price of $1000
3rd Prize: Sony MHCV71D floor-standing Hi-Fi system valued $799
4th Prize: Jamie Oliver Tefal premium s/steel saucepan set valued $799
5th Prize: Stanley Rogers Baguette 88 piece Cutlery set valued $499
6th Prize: Samsung Galaxy WiFi Tab A 10.5" 32GB smart tablet valued $449
7th Prize: DeLonghi Icona 1.7L cordless Kettle & 2 Slice Toaster valued $268
8th Prize: Fitbit Charge 3 – Black/Graphite Aluminium GPS Smart watch / Fitness tracker valued $229
9th Prize: Ninja Nutri Blender with Auto IQ valued $189
10th Prize: Russell Hobbs Express Chef 6L Multi-cooker valued $149
Quality products! Great brands! No compromises!
$20 each or 3 for $50
Drawn at 9pm on Saturday 8 June 2019, at Roselea Community Centre, 645-671 Pennant Hills Road, Carlingford, NSW 2119
For raffle tickets, please contact Pramuk – 0425 358 508, Nihal – 0417 660 646, Chaminda – 0481 223 785.
Note
Funds raised will be used to establish the Sinhalese Cultural Centre. Raffle draw will be held during the annual SCC fundraising dinner (SCC Nite 2019) Roselea Community Centre, Carlingford. Winning ticket details will be announced at the draw and the winners will be informed by phone and/or email. The winning ticket numbers will be published on SCC website www.sccsydney.org.au after the draw. Winners must surrender their winning ticket to the Sinhalese Cultural Centre at the time of claiming their prize. Prize values indicated are recommended retail prices at the time of printing. The prizes shown in pictures are for illustration purposes only. Prizes other than 1st and 2nd prizes cannot be claimed in cash value. 1st and 2nd prizes will be given in cheque.
The members of the Sinhalese Cultural Centre Board of Directors or their family are not permitted to enter the raffle. For the purpose of the SCC Raffle, the family means the nuclear family consisting of parents (mother, father), children (sons and daughters) single or married, living in parental household or otherwise living apart. Parents of the Board of Directors living in the same household will be considered as members of the family for this purpose.